Our story
Ethiopian heart, global soul.
Buunni brings Ethiopian hospitality and warmth to the United States via fabled, full-flavored coffee beans. Elias and Sarina, a husband-and-wife team, founded Buunni in 2012 when they moved west across the Atlantic from the birthplace of coffee—Ethiopia.
Buunni means brown. Like our coffee. Like us.
Buunni means brown. Like our coffee. Like us.
Grown on the lush highlands of Ethiopia and roasted in New York, not only is our specialty coffee some of the best in the world, it is also a bridge between our old and new homes.
We believe in delicious coffee that allows the unique flavors of each coffee bean to shine. Flowers, stone fruit, dark chocolate, smoke—these are just some of the tastes and aromas you'll discover in our single origin coffees. 
We also like to play and invent to create blends that mix and match and enhance the coffee experience from your first sip to the last.  
Small farms, big taste.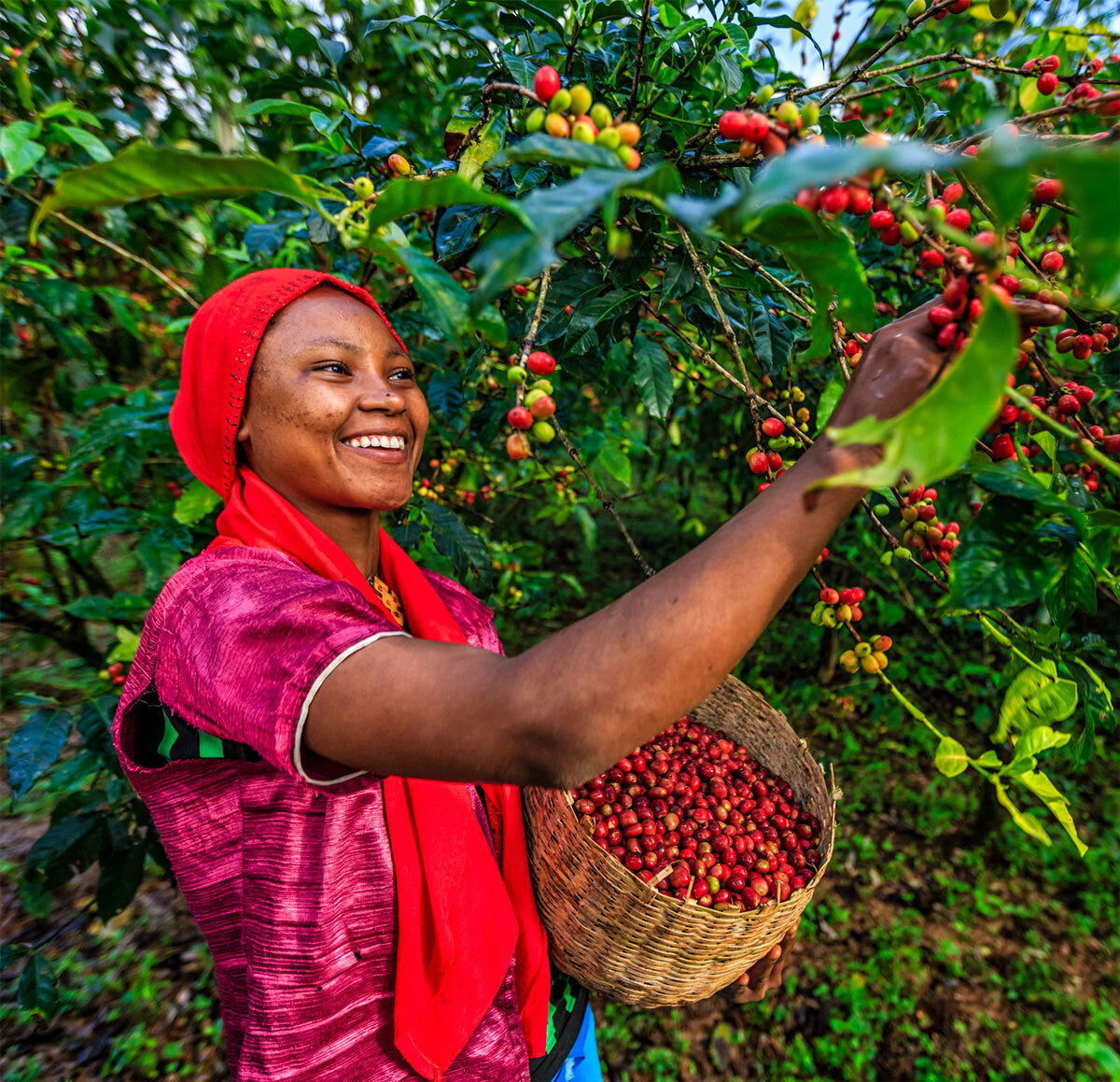 Small farms, big taste.
All our coffees are sourced from smallholder farms and farmers' cooperatives, cultivated using traditional methods and hand-processed for the highest-quality beans. We roast our beans locally once a week in micro batches to retain peak freshness and full, nuanced flavors.
Coffee and community—a love story.
Coffee and community—a love story.
We trust the restorative magic of good coffee and company. Coffee drinking in Ethiopia is a time to slow down and catch up. Whether you're meeting a friend for macchiatos, brewing a me-time cup at home, or sitting down with loved ones alongside a pot of Buunni and a jigsaw puzzle—we hope the spirit of this communal ceremony will delight you as you take that first soul-satisfying sip of coffee. Ahhhh.
Our Values
OUR MISSION
Celebrate the world's best coffee to foster connection and community everywhere. 
This means we believe in coffee growing and buying practices that are good for people—growers, processors and consumers—as well as for the planet. We turn our beliefs into action by prioritizing sustainability throughout our business: by working with small coffee farmers in origin countries, by supporting sustainable growing, by practicing ethical sourcing. We pursue an equitable business model with fair labor practices and have environmentally sustainable cafe operations as well as packaging.
OUR VISION
We believe in coffee as a vehicle to build community and spark change. 







Our Founders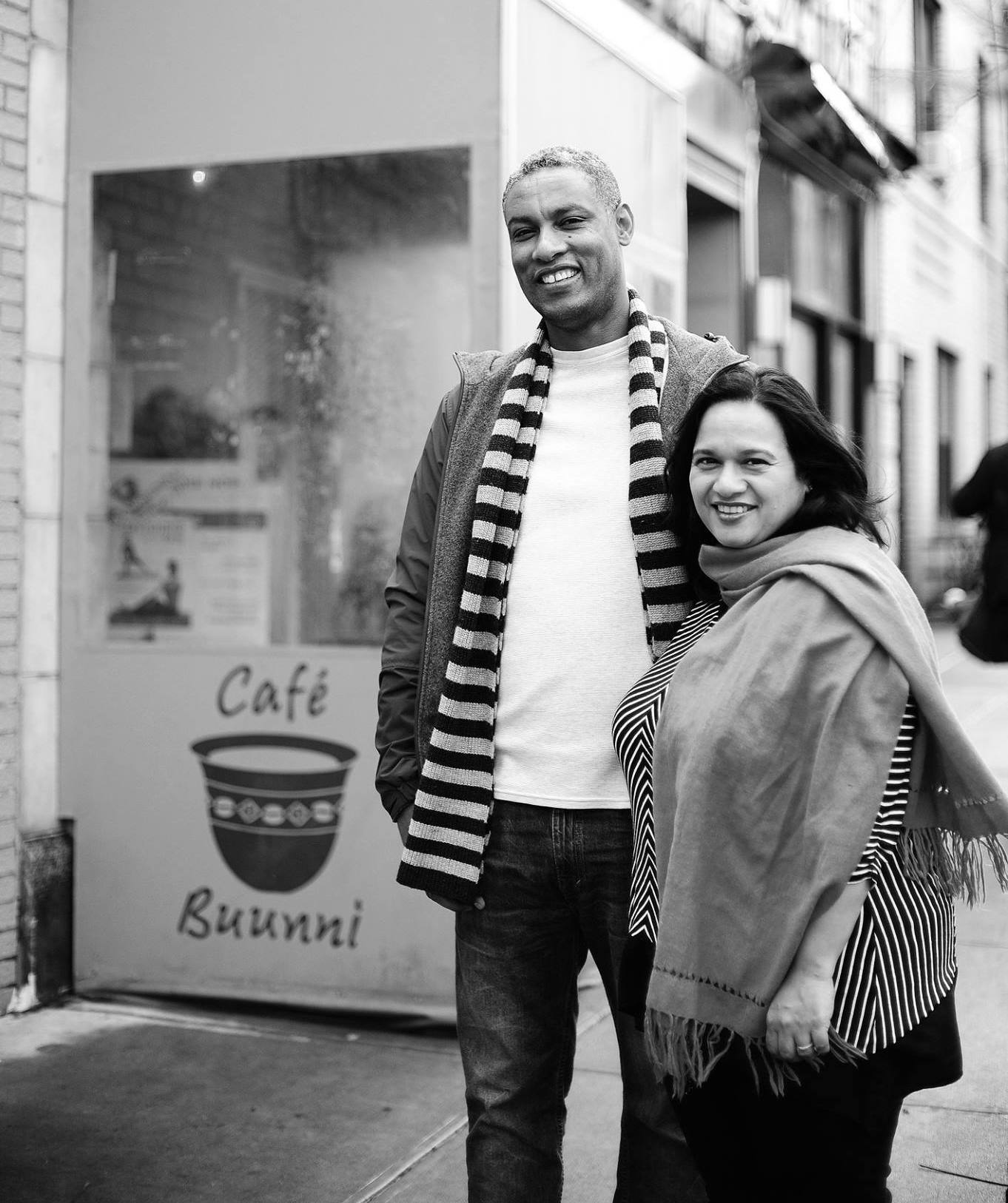 Sarina and Elias are passionate about the idea of coffee as a medium for nurturing community, brewing joy and kindling kinship.
Buunni cofounders Elias Gurmu and Sarina Prabasi met and married in Ethiopia. Sarina, originally from tea-drinking Nepal, grew up around the world. Elias was raised in an old Addis neighborhood where the aroma of coffee beans wafted from every nook. They fell in love over coffee, while sampling Addis Ababa's myriad hole in the wall macchiato joints.
Elias is a serial entrepreneur. In Addis, he ran a traditional restaurant with long lines outside at lunch time. Often called "Mr. Buunni" in their upper Manhattan neighborhood, Elias is frequently seen striding across Uptown to fix, deliver, problem solve.
Sarina is the author of The Coffeehouse Resistance (2019)  and formerly the CEO of WaterAid America. Sarina serves on the Board of Directors of the Specialty Coffee Association and has been featured in Food & Wine ("Most Innovative Women in Food and Drink"), New York Business Journal ("Woman of Influence"), Fortune Magazine and elsewhere.
Through their extraordinary coffee beans, coffee education programs, and three bustling community oriented cafes in Northern Manhattan, Sarina and Elias have been extending Ethiopian coffee culture and hospitality in the United States. 
Our Purpose
CELEBRATING COFFEE
HONORING COFFEE
SHARING COFFEE
Celebrating coffee
We're not exaggerating when we say that our coffee is some of the best in the world. Hand-processed the traditional way, many of our coffees are certified fairtrade and organic while others are from sustainable small farms that cannot afford the certification costs. We micro-roast our beans weekly for maximum flavor and fragrance. We also make a mean Ethiopian macchiato at our cafés—stop by if you like 'em short, dark, and creamy.
Honoring Coffee
There is a delicate series of critical events that culminate into that taste bud-tingling first sip of coffee. From seed to cup, we honor the labor and love hidden behind every sip you take. From the growers and pickers to roasters, a coffee bean goes through at least ten custodians and travels thousands of miles to reach you. At Buunni we are intentional in acknowledging the alchemy imbued by each hand that nurtures the bean on its journey.
Sharing coffee
In Ethiopia, coffee drinking is a shared ritual, a moment to slow down and commune with friends, family, neighbors. People harvest beans from mini coffee groves in their backyards, roast, grind and brew them surrounded by loved ones. The last pour of this shared delicacy is called baraka—blessing—made even more special with the company. We recreate this bonhomie in our lively NYC cafes that are beloved neighborhood hubs providing extraordinary coffee alongside art, music, and advocacy
Our History
One could say this story began on the Ethiopian highlands. The slopes were shimmery green with the leaves of a wild plant called bunna.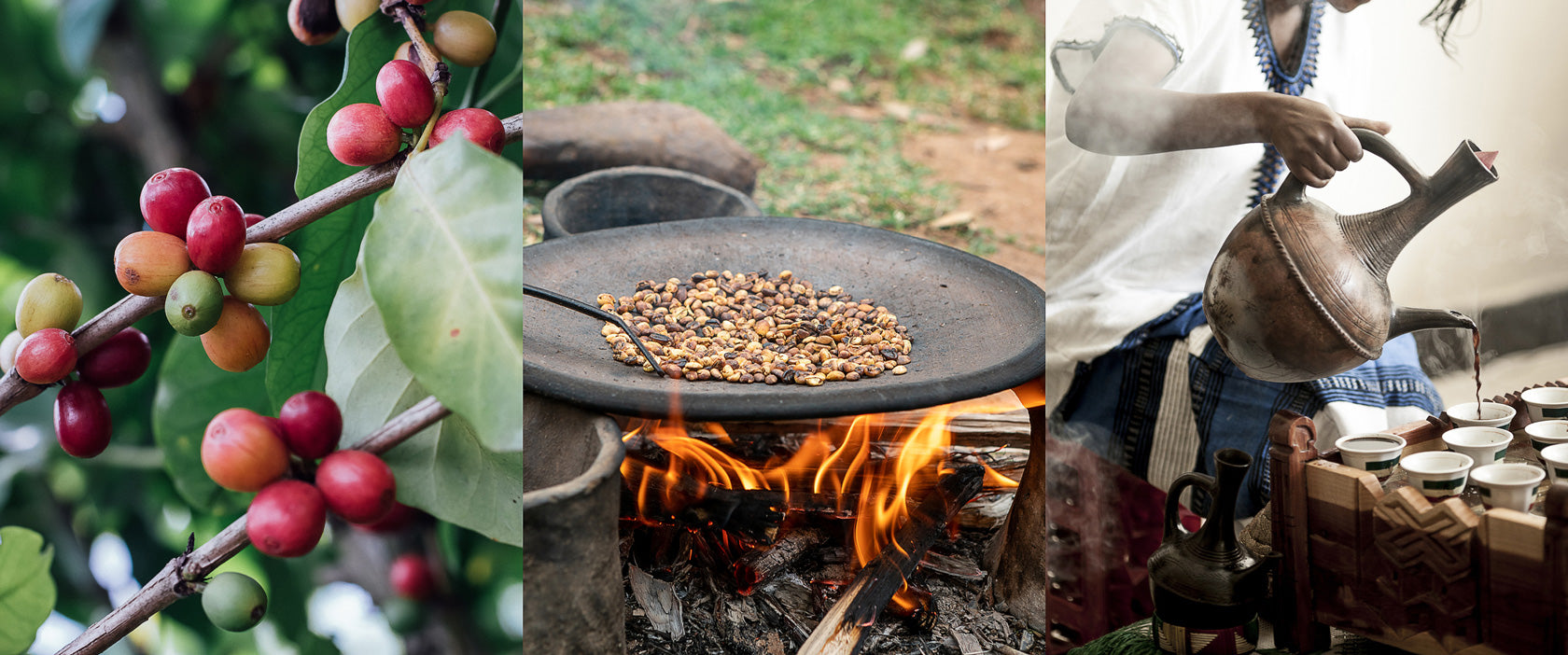 Thousands of years ago, so far back that this history can only be told in legends, a goatherd noticed his goats gamboling on these slopes after eating the berries of the bunna shrubs. 
Nearby, the halls of ancient monasteries buzzed with the wonders of the seeds within these berries. The monks savored them pulverized with butter and honey, staying alert during long nights of study and prayer.
Maybe the story unfurled as the monks ground the seeds—the fragrance released was intoxicating even before the flavor hit the palate. 
With such a reputation, these magic seeds started reaching distant lands, their beguiling aroma wafting from cafés and caravanserais. They inspired poets and philosophers, fomented friendships, birthed revolutions.
Or perhaps the story commenced in one of the circles of coffee ceremonies held throughout Ethiopia even today—fresh beans roasted on a cast iron pan, ground in a mortar pestle, brewed in a swan-necked jebna, poured into small sini cups by women. Friends and family gather around. Gossip and gaiety mingles with the smell of popcorn. Loved ones sip the coffee together and call the last pour bereka, blessing.
Or one could simply say this: Once upon a time, a boy from Addis Ababa knew that it was unconventional for men to prepare traditional afternoon coffee, but he brewed it anyway. When he met a tea-drinking girl who was from Everywhere, they spent heady days chasing macchiatos made with old school Italian machines in hole-in-the-wall cafés across the purple jacaranda-strewn city. 
The first home they built together had a bottle brush tree, its crimson flowers stark on the red East African soil. When they moved from the land-locked country to a city by the ocean, they wanted to build a bridge between their old and new stories. They wanted to create a warm home—a place full of light, laughter and coffee—open to everyone. They wanted to share their roots with the world.

So they brought their beloved bunna seeds with them to New York. And so grew Buunni.